When Norwegian Breakaway debuts in April 2013, it will bring a somewhat different restaurant concept to the cruise industry. Several of the restaurants and bars will be facing and opening outward onto an outdoor promenade on Deck 8 that wraps almost all the way around the ship. The ocean views and al fresco seating will help the passengers connect to the sea. The promenade will be called the Waterfront.
(Note: Video is at the bottom of this item.)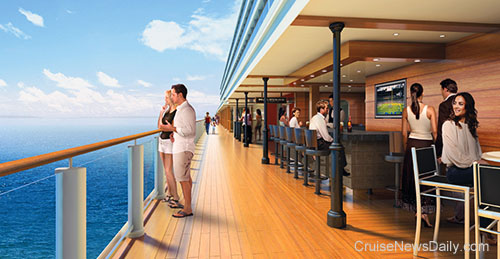 There will be a variety of restaurants and bars which open out onto the Waterfront.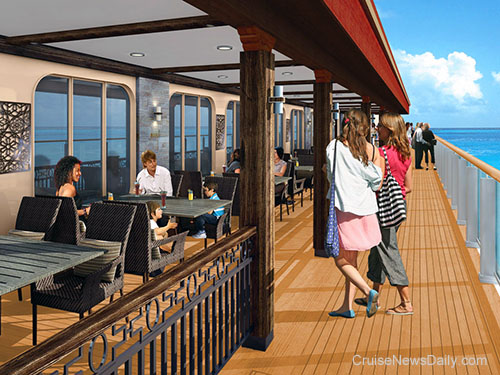 Another major design element of Norwegian Breakaway is a three-deck-high atrium called 678 Ocean Place that will have many of the restaurants, bars and amusement areas opening onto it. Some of the Waterfront's venues will run halfway through the ship so that they will open onto both the Waterfront and into Ocean Place.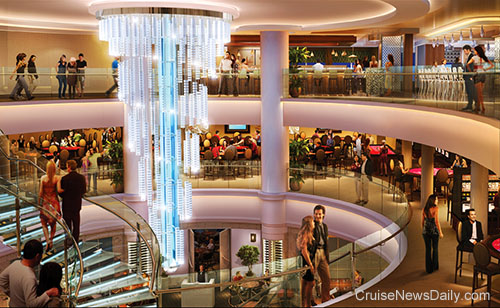 678 Ocean Place (the number 678, coming from the decks that it's on)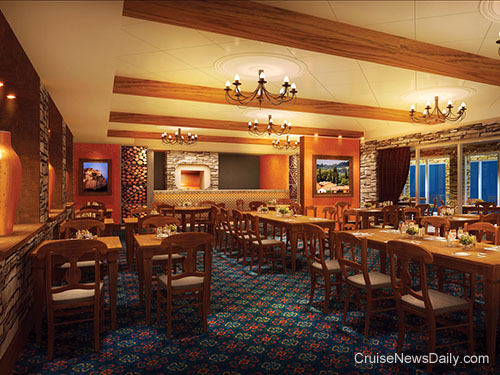 La Cucina will also have a large indoor seating area.

La Cucina's other "front" offers seating on a "terrace" overlooking 678 Ocean Place.
The video below puts it all together with the walkthrough portions helping to demonstrate the flow from inside the ship to outside.
Renderings and video courtesy of Norwegian Cruise Line
The complete article appeared in the March 14, 2012, edition of Cruise News Daily.